Isis Amulet for Magical Inspiration As an Amulet, this Isis amulet helps awaken your Magical Inspiration.
Isis Amulet for Magical Inspiration by Starlinks Gifts
Winged Isis, Lady of Heaven, had sacred and powerful knowledge of magical arts and descended from the stars to restore the Earth's ecology. Isis was known as the Mistress of Magic having learned the magical arts from Thoth. This pendant, beyond being a beautiful representation of the Goddess, can help awaken your Magical inspiration.

Approximate size: 2" x 1¼".
Produced in pewter, finished in gold or silver and Swarovski crystals with a 18" chain. Each pendant is supplied with an explanation card in a presentation jewelry box.
Item Number:
SK-JA02 |
Approximate Size (Inches):
2.00 wide x 0.20 deep x 1.25 high |
Approximate Shipping Weight:
0.50 lbs.
Recommended accessories
One of the most beloved of the Egyptian Goddesses, Worship of Isis grew ..
$58.00
---
Made of cold cast resin with hand painted detail, she is 12.5 x 3.5 x 8 5 i..
$54.00
---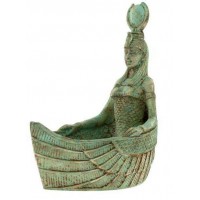 Beautifully detailed cold cast resin Winged Isis offering bowl is hand made..
$54.50
---