Eye of Horus Earrings for Protection The Eye of Horus was known as a potent symbol of protection in Ancient Egypt.
Eye of Horus Earrings for Protection by Starlinks Gifts
The Eye of the Moon which Set stole from Horus is worn to protect against evil, symbolizing the Power of Light over Darkness. For Health, Strength and Protection.
Approximate size: 1/2 x 3/4 inch. Comes as a pair.

Produced in pewter, finished in gold or silver and Swarovski crystals with surgical steel eye wire. Each set is supplied with an explanation card in a presentation jewelry box.
Item Number:
SK-JA07 |
Approximate Size (Inches):
0.50 wide x 0.20 deep x 0.75 high |
Approximate Shipping Weight:
0.50 lbs.
Recommended accessories
Only Kings, Queens and Gods were allowed to carry the Ankh, also known as t..
$25.50
---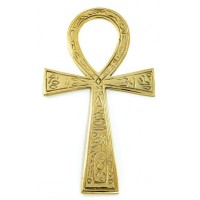 The ankh is the ancient Egyptian symbol of eternal life. This large, solid ..
$15.00
---