Eye of Horus Earrings for Protection
The Eye of Horus was known as a potent symbol of protection in Ancient Egypt.
Product Code: SK-JA07
Average Delivery: 2 - 5 Days within USA*
Brand: Starlinks Gifts
---

Shipping is FREE on orders of $75 or more within the US.

Shipping costs are based on weight - average is $3.00-$6.50 within the US.

To see shipping costs outside the US or for orders under $75, add this item to your cart, view the cart and select "See Shipping Costs"
---
this? Share it!
Ask a Queston About This Item
Eye of Horus Earrings for Protection by Starlinks Gifts
The Eye of the Moon which Set stole from Horus is worn to protect against evil, symbolizing the Power of Light over Darkness. For Health, Strength and Protection.
Approximate size: 1/2 x 3/4 inch. Comes as a pair.

Produced in pewter, finished in gold or silver and Swarovski crystals with surgical steel eye wire. Each set is supplied with an explanation card in a presentation jewelry box.
Item Number:
SK-JA07 |
Approximate Size (Inches):
0.50 wide x 0.20 deep x 0.75 high |
Approximate Shipping Weight:
0.50 lbs.
Recommended accessories
Only Kings, Queens and Gods were allowed to carry the Ankh, also known as t..
$25.50
---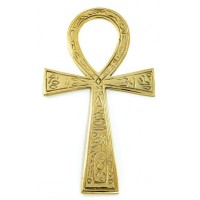 The ankh is the ancient Egyptian symbol of eternal life. This large, solid ..
$15.00
---
Availability:
Inventory is updated regularly and will be shown above with any sizes/colors/items out of stock indicated. Not all manufacturers provide inventory data and even in stock items can be sold out without notice. Items not shown out of stock are normally available. We will notify you of any out of stock items as soon as possible or you can contact us in advance of placing your order to verify availability.
*Average Delivery:
The average delivery time for delivery within the United States via Standard or Free Shipping. Deliveries outside the US will on average take an additional 10-15 days based on destination country and customs both in the US and at the destination. International deliveries may have additional import duties, taxes, or fees imposed before delivery that we cannot charge or estimate - contact your local customs office for information.

Note: This is the average, estimated time for delivery and is subject to availability, seasonal sales volume, and other potential, unforeseen delays. If you must have an item by a specific date, be sure to include that date in your cart comments when checking out.
Finish
Metal Plated
Plating is a very old process and can be done using gold, silver, brass and other metals. Usually a more expensive metal such as gold is plated over a lesser metal like pewter or sterling silver. An entire piece may be plated or just small details to enhance the design. Plating can be worn away or corroded away in some situations though pieces can be re-plated by some jewelers.
Materials
Pewter
Pewter is a malleable metal alloy, traditionally 85–99% tin, with the remainder consisting of copper and other metals. It has a low melting point and is very easy to cast in molds. It has been used since ancient times for everything from jewelry to table wear and was once called the "poor mans silver". Generally pewter has a grayish/silver semi-dull finish, though this varies depending on the metals combined with the tin and can be colored black or other shades or plated with gold or silver. All our pewter pieces are lead and nickel free. Pewter is generally hypo-allergenic and will not tarnish or react in most conditions. Note it can break or crack if flexed multiple times and rings cannot be re-sized, though interior ring springs or other adjusters might be used.
Country of Origin
Origin
Made in the UK
There are no reviews for this product yet. Why not write one?
View More: Starlinks Gifts, eye of horus earrings, egyptian pendant, magic amulet, protection, health, strength