Eye of Horus Magickal Charm for Protection The Eye of Horus is a powerful magickal symbol for protection and more.
Eye of Horus Magickal Charm for Protection by Starlinks Gifts
Originating from Ancient Egypt, this amulet was worn to bestow upon its wearer blessings of Health, Strength and Vigor, and Protection from the Evil Eye.

The Star Charms line is an eclectic collection of authentic magickal Talismans and Amulets from a wide number of cultures and sources. All pieces are made of brass and copper and comes on a card with a leaflet explaining its meaning.
Approximately 7/8 inch in diameter.

Item Number:
SK-SCA98 |
Approximate Size (Inches):
0.85 wide x 0.10 deep x 0.85 high |
Approximate Shipping Weight:
0.25 lbs.
Recommended accessories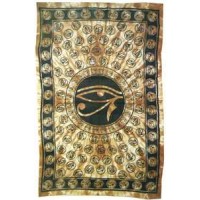 Beautiful tie dye bedspread in 72 x 108 inches. Works great as a wall hangi..
$33.00
---