Eye of Horus Magickal Charm for Protection
The Eye of Horus is a powerful magickal symbol for protection and more.
Product Code: SK-SCA98
Average Delivery: 2 - 5 Days within USA*
Brand: Starlinks Gifts
---

Shipping is FREE on orders of $75 or more within the US.

Shipping costs are based on weight - average is $3.00-$6.50 within the US.

To see shipping costs outside the US or for orders under $75, add this item to your cart, view the cart and select "See Shipping Costs"
---
this? Share it!
Ask a Queston About This Item
Eye of Horus Magickal Charm for Protection by Starlinks Gifts
Originating from Ancient Egypt, this amulet was worn to bestow upon its wearer blessings of Health, Strength and Vigor, and Protection from the Evil Eye.

The Star Charms line is an eclectic collection of authentic magickal Talismans and Amulets from a wide number of cultures and sources. All pieces are made of brass and copper and comes on a card with a leaflet explaining its meaning.
Approximately 7/8 inch in diameter.

Item Number:
SK-SCA98 |
Approximate Size (Inches):
0.85 wide x 0.10 deep x 0.85 high |
Approximate Shipping Weight:
0.25 lbs.
Recommended accessories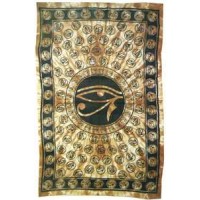 Beautiful tie dye bedspread in 72 x 108 inches. Works great as a wall hangi..
$33.00
---
Availability:
Inventory is updated regularly and will be shown above with any sizes/colors/items out of stock indicated. Not all manufacturers provide inventory data and even in stock items can be sold out without notice. Items not shown out of stock are normally available. We will notify you of any out of stock items as soon as possible or you can contact us in advance of placing your order to verify availability.
*Average Delivery:
The average delivery time for delivery within the United States via Standard or Free Shipping. Deliveries outside the US will on average take an additional 10-15 days based on destination country and customs both in the US and at the destination. International deliveries may have additional import duties, taxes, or fees imposed before delivery that we cannot charge or estimate - contact your local customs office for information.

Note: This is the average, estimated time for delivery and is subject to availability, seasonal sales volume, and other potential, unforeseen delays. If you must have an item by a specific date, be sure to include that date in your cart comments when checking out.
There are no reviews for this product yet. Why not write one?
View More: Starlinks Gifts, seal of solomon, copper amulets, magic talismans, magic amulets, eye of horus, protection, strength, health