Winged Isis Table Lamp
This stunning Egyptian Isis table lamp has translucent wings and an Egyptian Revival style.

Shipping is FREE on orders of $75 or more within the US.

Shipping costs are based on weight - average is $3.00-$6.50 within the US.

To see shipping costs outside the US or for orders under $75, add this item to your cart, view the cart and select "See Shipping Costs"
---
this? Share it!
Ask a Queston About This Item
Winged Isis Table Lamp by Pacific Gift Home Decor
So gorgeous, so unique! This Winged Isis table lamp is 18 3/4 inches high with stunning hand painted color detail and translucent wings that wrap up and around the included bulb to create a built in lampshade.
Arms outstretched with a translucent veil, their is a slight art deco/Egyptian revival feel to her costume. Cold cast resin with hand painted color detail. A truly unique and amazing, functional work of art for your home or office.
UL listed power cord has on/off switch.

Item Number:
PT-11687 |
Approximate Size (Inches):
7.75 wide x 7.75 deep x 18.75 high |
Approximate Shipping Weight:
4.00 lbs.
Recommended accessories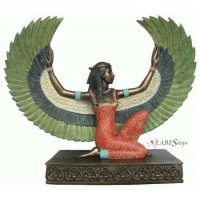 Isis, mother of Horus and wife of Osiris, was revered by Egyptians as the g..
$72.00
---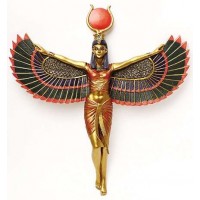 Goddess Isis spreads her wings on this stunning Egyptian wall plaque. Measu..
$51.50
---
Availability:
Inventory is updated regularly and will be shown above with any sizes/colors/items out of stock indicated. Not all manufacturers provide inventory data and even in stock items can be sold out without notice. Items not shown out of stock are normally available. We will notify you of any out of stock items as soon as possible or you can contact us in advance of placing your order to verify availability.
*Average Delivery:
The average delivery time for delivery within the United States via Standard or Free Shipping. Deliveries outside the US will on average take an additional 10-15 days based on destination country and customs both in the US and at the destination. International deliveries may have additional import duties, taxes, or fees imposed before delivery that we cannot charge or estimate - contact your local customs office for information.

Note: This is the average, estimated time for delivery and is subject to availability, seasonal sales volume, and other potential, unforeseen delays. If you must have an item by a specific date, be sure to include that date in your cart comments when checking out.
There are no reviews for this product yet. Why not write one?
View More: Pacific Gift Home Decor, winged isis, isis table lamp, egyptian revival, isis, goddess isis, egyptian goddess, desk lamp