Winged Isis Table Lamp This stunning Egyptian Isis table lamp has translucent wings and an Egyptian Revival style.
Winged Isis Table Lamp by Pacific Giftware Home Decor
So gorgeous, so unique! This Winged Isis table lamp is 18 3/4 inches high with stunning hand painted color detail and translucent wings that wrap up and around the included bulb to create a built in lampshade.
Arms outstretched with a translucent veil, their is a slight art deco/Egyptian revival feel to her costume. Cold cast resin with hand painted color detail. A truly unique and amazing, functional work of art for your home or office.
UL listed power cord has on/off switch.

Item Number:
PT-11687 |
Approximate Size (Inches):
7.75 wide x 7.75 deep x 18.75 high |
Approximate Shipping Weight:
4.00 lbs.
Recommended accessories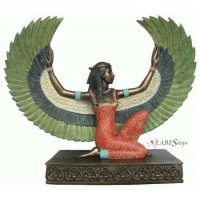 Isis, mother of Horus and wife of Osiris, was revered by Egyptians as the g..
$72.00
---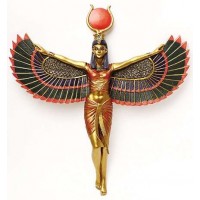 Goddess Isis spreads her wings on this stunning Egyptian wall plaque. Measu..
$51.50
---