Bastet Black Cat with Gold Necklace Statue Cats were sacred to Bastet, a sun goddess who represents the warm, life giving power of the sun.
Bastet Black Cat with Gold Necklace Statue by Summit Collection Museum Replicas
Bastet was known as the goddess of joy and protector of women. Black cold cast resin statue of Bast has gold collar necklace and hand painted detail.
She measures 8 1/2 inches high with stunning detail and heiroglyphic accented base.
Item Number:
YT-8451 |
Approximate Size (Inches):
4.50 wide x 2.75 deep x 8.50 high |
Approximate Shipping Weight:
2.50 lbs.
Recommended accessories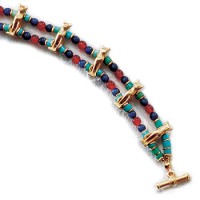 Cats were considered sacred in ancient Egypt. They represented Bastet, t..
$66.00
---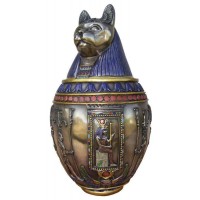 The jars were four in number, each charged with the safekeeping of particul..
$69.00
---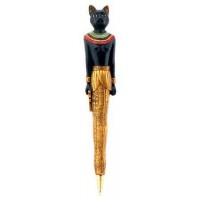 Has a brass tip which unscrews to let you replace the pen insert (note -..
$9.95
---