Covid-19 Info: We appreciate your support of us and other small businesses and are committed to keeping our staff and customers healthy and safe during this difficult time. Please expect delays in shipping and restocking. See updates on issues caused by the Covid-19 Pandemic here and our company Facebook Page.
Article Search
Articles meeting the search criteria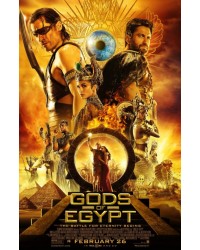 I finally got around to watching Gods of Egypt on pay per view and it is not as horrible as some reviews I had seen said, though not as good as I had hoped. There was a lot of controversy when the film was announced with the casting of fair skinned, blonde haired actors that are obviously not historically accurate. But then it is a fantasy movie in the vein of Clash of the Titans, so that really didn't bother me that much and the cast do a fair job of acting. I was actually glad to see Egyptian Gods get a little attention instead of the Greek and Romans so often seen in fantasy movies. L..
Showing 1 to 1 of 1 (1 Pages)