Size & Other Options are Not Working on Some Products
Our techs are working on fixing the issue, but until fixed, please let us know which option you want in comments when checking out if the item does not show the option choice.
Movies and TV
Read news from the entertainment world of movies and TV shows.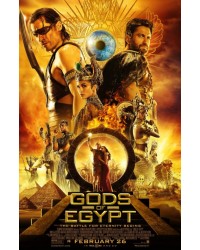 I finally got around to watching Gods of Egypt on pay per view and it is not as horrible as some reviews I had seen said, though not as good as I had hoped. There was a lot of controversy when the film was announced with the casting of fair skinned, blonde haired actors that are obviously not historically accurate. But then it is a fantasy movie in the vein of Clash of the Titans, so that really didn't bother me that much and the cast do a fair job of acting. I was actually glad to see Egyptian Gods get a little attention instead of the Greek and Romans so often seen in fantasy movies. L..
Showing 1 to 1 of 1 (1 Pages)
Bestsellers at Egyptian Marketplace