Size & Other Options are Not Working on Some Products
Our techs are working on fixing the issue, but until fixed, please let us know which option you want in comments when checking out if the item does not show the option choice.
Announcements
The latest announcements about the store - new features, how to shop, so much more.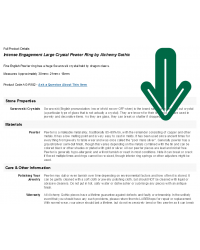 Product Details
Do you want to know more about a product I sell? Just scroll down! I am in the process of refining the product pages to give you all the vital information right up top - name of the item, brief description, price, key elements of it, options it might come in, photos of it, etc. But then there is yet more to discover about the item just by scrolling down further! As you scroll, you will reveal details including a more detailed description, size chart, properties of the materials used in the item, delivery options for it, warranty and care information, where it is made, fitting guides and ..
On of our favorite manufacturers, Ancient Treasures, is in the process of changing their US distributor and all inventory is currently in transit to their new warehouse while other pieces are in the process of being restocked - including items that have been out of stock for a long time! This came unexpectedly as of June 21 and affects their museum quality Egyptian replicas as well as some of the Celtic and other lines we feature at MysticConvergence.com. Unfortunately, this means there are shipment delays as they get everything transferred and re-inventoried. At this moment, I don't kn..
I am finally getting around to doing a blog for Egyptian Marketplace! A newsletter is planned too, but one thing at a time, right? This blog will be mostly about Ancient Egypt, the Egyptian Gods, myths and legends with a little archeology and magic thrown in for good measure. For this first post, I thought I'd give you a bit of a background about me and the store so you know who this crazy lady is you are reading :) My name is Lori Anne Brown and I the owner, tech, and everything for Egyptian Marketplace and LABEShops (LAB Enterprises Shops) my online stores. My background is in a..
Showing 1 to 3 of 3 (1 Pages)
Bestsellers at Egyptian Marketplace