Bast Egyptian Cat Goddess Necklace The Ancient Egyptians worshiped cats and considered them protectors. This gorgeous pendant can protect its wearer.
Silver Plated Lead Free Pewter
Made in the USA
---
---
Bast Egyptian Cat Goddess Necklace by Starlinks Gifts
This is the symbol of the Egyptian Goddess Bast, who is commonly identified with the Roman Goddess Diana. This amulet is worn for Independence, Protection and to obtain the Guidance of one's Inner Self.
Made of lead-free pewter with antique silver plate it is about 1 inches high on a black neck cord.

Item Number:
SK-ESPA1 |
Approximate Size (Inches):
0.75 wide x 0.12 deep x 1.00 high |
Approximate Shipping Weight:
0.50 lbs.
Recommended accessories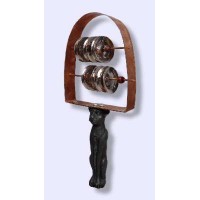 Bast is the Egyptian cat goddess, daughter of the sun god "Ra". Bastet w..
$38.00
---